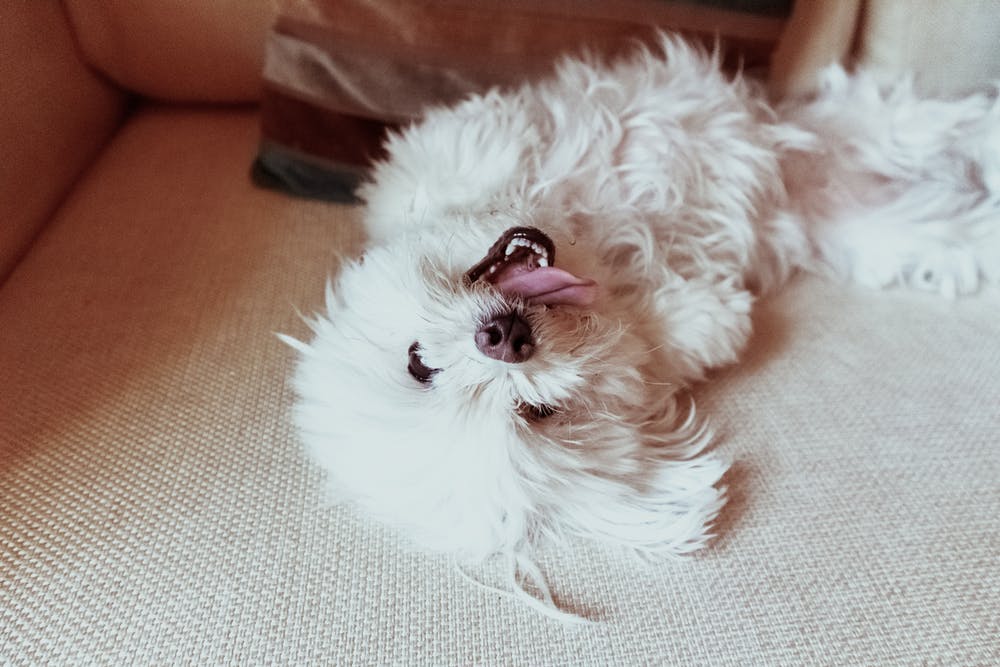 She's crazy. She's ruthless. She doesn't care what anyone thinks. She lives by her own rules. No, I'm not talking about Lady Gaga, but I am talking about a different kind of girl. Picture a female brought up without any gender conditioning. Picture my terrier, Libby. Here are 6 ways I admire her "Women who run with the Yorkies chutzpah…
She's messy – Although I'm hardly high maintenance in the cosmetic and clothing department, I do think twice before going out without mascara and lipstick. My hair is always combed and although my clothes won't be featured in Vogue, they're clean and hopefully match.
Then there's Libby. She splashes through puddles, the muddier the better. She loves standing in the rain and digging in the grass for whatever treasure (or unsuspecting chipmunk) lies below. Libby doesn't care if it makes her fur a mess and she ends up looking like Phyllis Diller. In fact, I think she likes it.
She's physical –Growing up, I used to love neighborhood softball games with the boys. I loved batting and running the bases and the quick reflexes needed. Then puberty came and I turned into a girl and things got awkward. Yet I secretly missed climbing trees and playing catch and building forts and other less ladylike pursuits.
Then there's Libby. Although well into adulthood, she doesn't miss any of those pursuits…because she still does them! She hurls herself off our bed to catch a toy… over and over and over. She loves a full-tilt run. She'll leap out of a sound sleep for a walk. What's the most dangerous place in the world? Try getting between Libby and a bouncing tennis ball.
She's assertive – Back in the business world, I had a tough time asking for a raise or speaking up for myself. Part of it was conditioning and part was shyness. Strangely, I was good at defending others, but terrible at sticking up for myself.
Not Libby. And although she doesn't have to negotiate a cost of living increase, she's not afraid to ask for what she wants, ever. She has this "almost talking" lecture bark as she pushes for the remnants of a dinner plate, sharing a piece of cracker with peanut butter, or getting her favorite plush bunny tossed to her. Libby is a fierce, unyielding negotiator.
She eats what she wants (and sometimes gallops toward it) – And yes, I've been tempted to do the same when I see the ice cream truck on Cape Cod. But decades of training have made their mark. Instead, I walk dignified, even though I secretly want to haul butt toward that chocolate éclair popsicle.
Meanwhile Libby eats everything with unabashed gusto. She'll jump three feet for a chicken bit. She'll snuffle under any piece of furniture for that scrap that got away. She licks cookie crumbs off the kitchen floor and empty ice cream dishes. She even gobbles stray Tums off Randy's nightstand. I've yet to find any food (or non-food) Libby won't eat with zealous abandon.
She gets mad – Like many women, I have trouble with anger, which usually comes out in silence. And yes, if my back's against the wall (and someone has really pushed it), I let loose. As one woman said, "I have a long fuse, but when it goes off, look out."
Libby on the other hand, never stifles her feelings. If she's annoyed or frustrated, she lets you know. And nothing riles Libby more than an unauthorized person on her property. She never cowers at a stranger. Instead she charges forward, demanding identification. It doesn't matter if they're ten times bigger. Libby has no problem with a full range of emotion and anger is right up there.
She's competitive – Full disclaimer: I've been told I'm competitive, especially in Words with Friends. Why I just don't know what they're talking about (eyelashes batting). But hey, chalk one up for me! I have one of Libby's "untamed female" traits.
Meanwhile, Libby's beyond competitive. In a game of "Keep away," she'll hold onto a toy…and hold on…and hold on…like her life depends on it. Libby loves to win, and more often than not, we let her have that cherished victory (mainly because we've tired out). She'll give that toy one last shake and I swear she's smiling.
I sometimes wonder, if human females were brought up without gender bias…would we all be like Libby?? Claiming unabashedly what is ours? Still being soft and female, but also messy and physical and uninhibited?
It's something to ponder in this quickly changing world.
In the meantime, excuse me, I have to play with Libby.
Do you have a female dog who teaches you the ways of the untamed girl? Comments are always welcome and if you like, please share.
If you'd like to receive posts by email, just press here. Thanks!